The 7 most important Indian folk art forms
From Madhubani to Pichwai, India is home to several indigenous art forms. Whether they sprang up from city walls or temples, today these art forms have gained exceptional popularity. Not only will you find them as paintings, but also as fabric prints and cutlery designs. Each form has its own distinct features and history. Here's a crash course on India's seven vibrant folk art forms: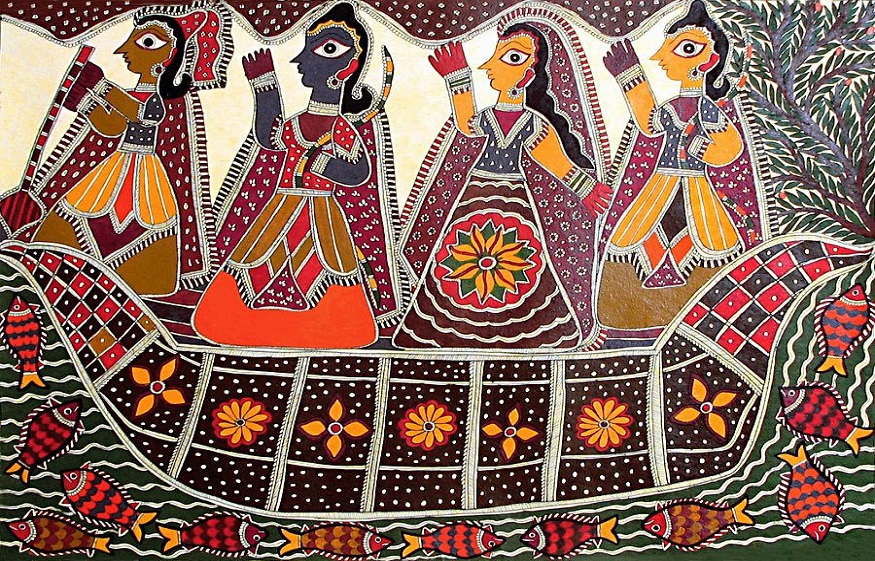 1.Kalighat Painting
Famous Kalighat painting were usually sold as souvenirs to British tourists and officers visiting India on official duty. They are known to have originated in the Kalighat area of Bengal—hence the name of this beautiful genre. Kalighat paintings were essentially a condensed form of Pattachitra paintings by focussing on one or two figurines, instead of narrating elaborate stories on canvas. Painted on mill-made paper, Kalighat paintings were unique in their portrayal of Indian gods and goddesses, popular folktales and religious epics.
2. Pattachitra Painting
Traditionally used to replace the deities of Jagannath temple for a 15-day period known as Anasara, some of the most famous Pattachitra painting are made in the village of Raghurajpur, Orissa. This heritage village in Orissa is renowned for creating famous Pattachitra arts on a large scale via paintings, scrolls and small knick-knacks. The residents of this village have been creating Pattachitra art since ages and this artistic legacy is reflected in the quality and finesse of their products. Famous Pattachitra paintings usually depict religious tales from Hindu epics.
3. Madhubani Painting
Though Madhubani is a 2500-year-old art form, its treatment of modern issues makes it a popular and relevant genre even today. It is believed to have originated during Raja Janak's reign when he instructed the residents of Mithila to deck up the walls of the city to mark his daughter, Sita's wedding to Lord Rama. Also known as Mithila painting, it depicts social issues and religious tales with equal elegance. Some of the most famous Madhubani painting use auspicious symbols and motifs that make this art form perfect for decorating your home and inviting positive energy.
4. Pichwai Painting
Originated in Rajasthan's Nathdwara temple, Pichwai painting were originally used to decorate the wall behind deities. This is why some of the most famous Pichwai paintings come from Rajasthan. Pichwai paintings are an ode to Srinathji, an avatar of Lord Krishna. These paintings make use of bright and auspicious symbols like lotus, peacocks, cows and lively scenes from Rasleela. In fact, there are certain Pichwai paintings particular to seasons and occasions which make the famous Pichwai art form even more interesting to admire and study. Each of the above mentioned motifs and symbols have a special significance, making Pichwai paintings a great addition to your home decor.
5. Classical Indian Painting
Famous Classical Indian art can be classified into four main schools of art: Rajasthani paintings, Mughal paintings, Deccani paintings and Pahari/Kangra paintings. Famous Classical Indian paintings impressed several emperors who made these a part of their royal households, and went on to commission many of them. The Mughal and Deccani styles of Classical Indian paintings were shaped by Indo-Islamic influences. Rajasthani miniature paintings depicted themes of religion and literature beautifully. Meanwhile, Radha and Krishna's divine love found a romantic expression in the Pahari school of Classical Indian art.
6. Gond Painting
The Gond tribe is India's largest Adivasi community and Gond paintings derive their name from this tribe which pioneered this art form. Though they are mostly found in Madhya Pradesh, you'll also find them in some corners of Andhra Pradesh, Orissa and Chattisgarh. Famous Gond paintings make use of small dots and delicate lines to create a sense of movement on the canvas. These repetitive patterns like dots, lines, geometrical shapes and fish scales make Gond paintings even more interesting. Famous Gond paintings depict religious deities, myths, legends, flora and fauna.
7. Warli Painting
Originally, Warli paintings were made on brown mud walls. However, around the 1970s, they started using paper canvases and started gaining even more popularity. Warli comes from the word 'warla' which means 'field' or 'a piece of land'. Famous Warli paintings depict different aspects of life by using geometric shapes like circles, triangles and squares. Animals, humans, mountains and trees are portrayed by drawing triangles while circles represent the sun and moon. Like Madhubani, Warli paintings also started as an early form of graffiti and gradually began to grace the walls of homes and offices.